Widespread Panic Band Info
"Cookin in the DINER Today"
John Bell
vocals, guitars
John "JoJo" Hermann keyboards, vocals
Michael Houser
guitars, vocals
Todd Nance
drums
Domingo S. Ortiz
percussion
Dave Schools
basses
Widespread Panic began in 1985 in Athens, G.A. A small band from Georgia they created their first CD "Space Wrangler" in 1988. Widespread is seen as a large touring band with loyal fans that follow them around the nation and world. In 1999 Widespread Panic ranked #51 on Pollstar magazine's top 100 touring bands for 1999. The band entered the record books in 1998 when 100,000 fans flooded the streets of Panic's hometown of Athens, Ga., for the band's CD release party for the live album Light Fuse Get Away. It also set a one-day attendance record for the New Orleans Jazz and Heritage Festival in 1999, drawing 63,000 spectators to the festival's first ever two-set performance.
Widespread Panic first performed in 1985 at the University of Georgia as a trio made up of guitarists John Bell and Michael Houser and bassist Dave Schools; the band took its name from Houser's then-nickname, "Panic." Drummer Todd Nance and percussionist Domingo Ortiz soon joined the fold, and the current lineup was completed in 1992 with the addition of keyboardist John "JoJo" Hermann.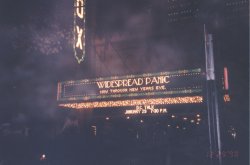 <Fox Theatre Atlanta